Wizz Air launched direct flights from Pulkovo St. Petersburg Airport to London
2 October
On the night of October 2, 2019, Wizz Air, the European low-cost airline, commenced scheduled service between the Russian city of St. Petersburg and London, the capital of the United Kingdom. The daily flights from Pulkovo Airport to London Luton Airport are operated by a subsidiary airline Wizz Air UK.
Wizz Air performs flights on St. Petersburg — London route on comfortable Airbus A321 aircraft with capacity of up to 230 passengers on board in economy class configuration.
Tickets for Wizz Air UK flights can be booked on the website of Pulkovo Airport in the Trip Planner section, as well as on wizzair.com at a price from 29.99 euros / 25.99 pounds sterling (one way, including all taxes).
For the nine months of 2019, Wizz Air served over 62 thousand passengers at Pulkovo Airport, which is 20% more than in the same period of 2018. Since August 2017, the airline operates direct scheduled flights between St. Petersburg and Budapest (Hungary). Wizz Air won the LED Together 2017 Prize awarded by Pulkovo Airport for the Best Developing New Destination.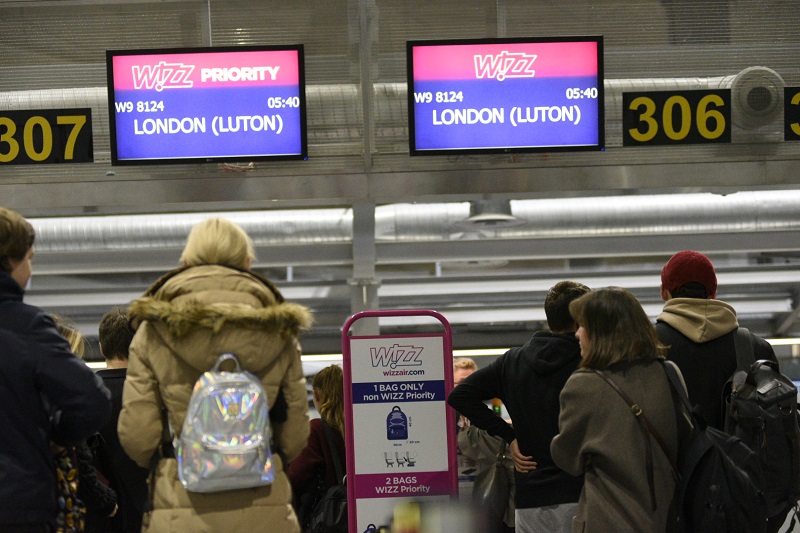 Pulkovo St. Petersburg Airport is the fourth airport in Russia in terms of passenger traffic. In January-August 2019, Pulkovo St. Petersburg Airport welcomed 13.2 million passengers, which is 8.6% more than in the same period of 2018. Since 2010, Northern Capital Gateway LLC has been the main operator of Pulkovo, implementing the airport reconstruction and development project under a public-private partnership agreement with the city of St. Petersburg.
About Wizz Air
Wizz Air, the largest low-cost airline in Central and Eastern Europe, offers flights on more than 650 routes from 25 bases, connecting 147 destinations across 44 countries. The airline operates fleet of 114 Airbus A320, A321ceo and A321neo aircraft. Wizz Air is listed on the London Stock Exchange under the ticker WIZZ and is included in the FTSE 250 and FTSE All-Share Indices. Wizz Air is registered under the International Air Transport Association (IATA), Operational Safety Audit (IOSA). The company recently received the highest 7-star safety rating from airlineratings.com, the world's agency for evaluating safety and airline products, and was awarded the recognized the Airline of the Year 2019 by the Air Transport Awards.