Pulkovo St. Petersburg Airport launched a new Duty Paid store
18 September
Pulkovo St. Petersburg Airport and the RegStaer Group of Companies, the leading Russian travel retailer in the airports and the partner of Dufry, opened a walkthrough Duty Paid store in the domestic departures hall. The new store is open 24 hours a day.
Along the way from the security check to the gates passengers can purchase perfumes and cosmetics, bags, suitcases, sunglasses, watches, accessories from the world's leading brands, as well as toys, drinks, sweets, chocolate and travel goods. RegStaer offers pre-order on www.regstaer.ru. Before the flight, travelers can purchase a favorite product with a 10% discount and pick it up at the new Duty Paid store.
The 1000 sq. m Duty Paid with a hi-tech design became the anchor store of the domestic departures hall, starting the process of renovation of the existing outlets' concept and increasing the commercial area in the terminal of Pulkovo Airport.
The retail and F&B facilities of Pulkovo Airport include more than 50 stores and 25 restaurants, including fast service points, cafes of Russian, American, Italian, Japanese, Irish cuisine, coffee shops, and snack bars. A complete list of facilities, their location and opening hours are available on the airport's website in the "Dining & Shopping" section.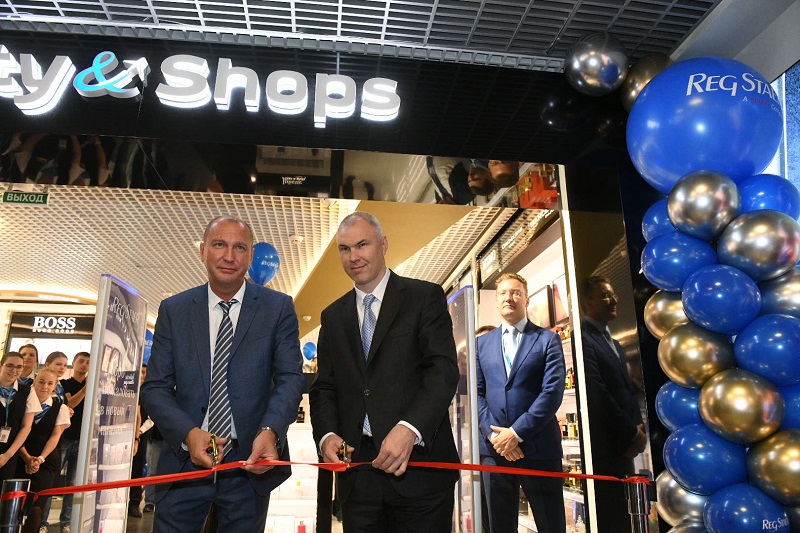 Pulkovo St. Petersburg Airport is the fourth airport in Russia in terms of passenger traffic. In January-August 2019, Pulkovo St. Petersburg Airport welcomed 13.2 million passengers, which is 8.6% more than in the same period of 2018. In 2019, St. Petersburg airport, for the fourth year in a row, became the winner of the national 'Air Gates of Russia' award, according to the passengers' votes. Since 2010, Northern Capital Gateway LLC has been the main operator of Pulkovo, implementing the airport reconstruction and development project under a public-private partnership agreement with the city of St. Petersburg.
About RegStaer
The RegStaer Group of Companies was founded in 1998 year. RegStaer is a partner of Dufry, a leading global travel retailer. RegStaer operates Duty Free and Duty Paid stores at five Russian airports as well as four boutiques in St. Petersburg and Moscow. The company's stores have a comfortable premium interior meeting the most stringent requirements of retail business. Each customer of the RegStaer stores is guaranteed an individual approach, high level of service and professional advice.
More news