Young Pulkovo professionals among top three leaders of the WorldSkills Russia Championship
28 May
Employees of Pulkovo Airport's security check and passenger services came third in the national stage of the WorldSkills Championship in the "Air Transport Service" category. The all-Russian final for professionals under 25 years old took place on May 20-24, 2019 in Kazan.
"The format of WorldSkills competition is unique as it enables participants to not only test their knowledge and skills, but also share experience with peers in the industry, and receive feedback from mentors and experts. The excellent result by our company and strong third place confirm the expertise of Pulkovo staff and quality of the personnel training system in the company. We intend to further improve the training and development of young professionals at St. Petersburg Airport in accordance with the best international standards".
In 2019, NCG employees took part in WorldSkills Russia for the first time. The regional championship stage took place at Pulkovo on February 6-8, 2019. Five teams competed at the qualifying stage, and the best team went on to the final in Kazan.
During the final in Tatarstan, NCG and another eight winning teams from the regional stages of the championship from Russian airports and professional colleges were competing for the title of the strongest. Each team comprising three security check inspectors and two registration and boarding agents solved non-standard passenger service tasks during several rounds. Scenarios included cases of prohibited items and substances, fake weapons concealed in luggage and carry-on bags, incorrect documents, excess luggage, as well as electronic system failure and the need for manual registration of passengers and luggage for the flight.
All cases were carried out on real inspection and registration equipment. Apart from practical training, all employees completed written tasks to assess their knowledge of regulatory documents. The jury took into account such criteria as speed and correct performance of tasks, attentiveness and teamwork.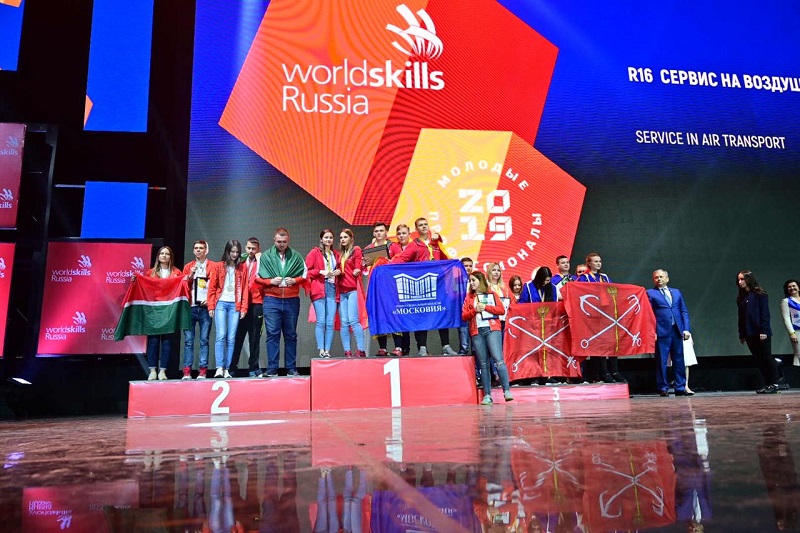 WorldSkills Russia is the official operator of the international non-profit movement WorldSkills International. Its mission is to improve the level of training in accordance with world standards and the needs of new high-tech production facilities. Regional, national and world championships are held under the aegis of the movement. Participants improve their skills competing in six categories of jobs: the construction industry, IT and communication technologies, creation and design, industrial production, services and civil transport maintenance.