Pulkovo St. Petersburg Airport invested over 920 million rubles in vehicle fleet modernization in 2018
15 July
Northern Capital Gateway (NCG), the operator of Pulkovo St. Petersburg Airport, invested 926.8 million rubles into the modernization of the vehicle fleet and equipment of St. Petersburg's airport.
Leonid Sergeev, Chief Executive Officer of NCG, noted:
"We pay special attention to technical upgrading and equipping of all airport services with advanced machineries. Last year, NCG purchased and put into operation more than 50 units of vehicles and other ground equipment. Using the state-of-the-art equipment ensures the steady operation of the airport to handle take-off and landing operations on time, regardless of weather conditions."
The special vehicle fleet of St. Petersburg Airport was expanded by 3 new Øveraasen Compact sweepers for high-speed cleaning of the airside. In addition, NCG purchased a small-capacity Sсhmidt sweeper for cleaning the ramp pavements under the boarding bridges and the aircraft parking stands and a Faun sweeper, which can operate during the low temperatures, for de-icing fluid removal from the airfield pavements in the aircraft de-icing areas. New additions to the Pulkovo Airport's special vehicle fleet also include a machine for transportation of marking equipment, a special Vammas plow, which is attached to a tractor to clean runway and taxiway lighting facilities, a John Deere front loader and a Mercedes-Benz Actros dump truck for transportation of snow during winter, as well as sand, crushed stone, road concrete mix and soil during other seasons of the year.
The fleet of the airfield machinery and equipment for aircraft ground handling received 26 STILL electric baggage tractors, 10 JBT self-propelled passenger steps, 6 universal aircraft engine heaters and 8 mobile aircraft power supplies.
New additions to the vehicle fleet of Pulkovo Airport include 4 COBUS 3000 airfield buses to transport passengers from the terminal to the aircraft and back, an airport ambulift for transporting passengers with reduced mobility and a PAZ bus for transportation of the airfield operation service staff.
The fleet of the airport fire and rescue crew received 2 new fire engines based on KAMAZ.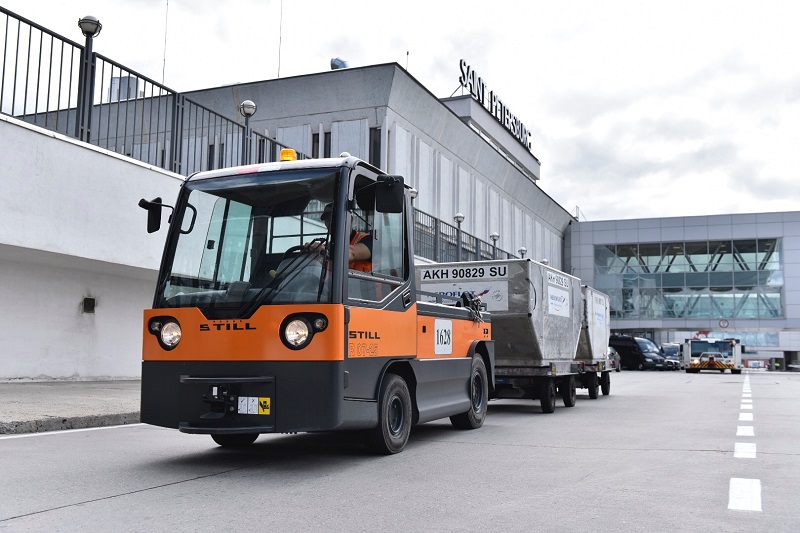 STILL electric baggage tractor
Pulkovo St. Petersburg Airport is the fourth airport in Russia in terms of passenger traffic. In January-May 2019, Pulkovo St. Petersburg Airport welcomed 6.8 million passengers, which is 12.3% more than in the same period of 2018. Since 2010, Northern Capital Gateway LLC has been the main operator of Pulkovo, implementing the airport reconstruction and development project under a public-private partnership agreement with the city of St. Petersburg.