Pulkovo Airport invites to a meat restaurant, organic food market and aviation wear store — all new in the terminal
21 March
Pulkovo St. Petersburg Airport expanded the list of restaurants and stores in the centralized passenger terminal.
In the general area of the arrival hall, the Vino & Vkusnosti organic foods and products market opened. It has everything for a healthy diet: fresh and dried fruit, vegetables, granola, yoghurts, herbs, honey, jam, nuts, cheese, and other farm products from the Leningrad Region and more. The bar offers a wide range of wines, cocktails, smoothies, and fresh juices. The main menu contains sandwiches, snacks, and desserts. The Vino & Vkusnosti food market is located on the first floor of the Pulkovo terminal and is open 24/7.
Food market has everything for a healthy diet
A new meat restaurant Rancho Grill & Bar now welcomes passengers in the domestic departures hall. The newly launched location is suitable for business meetings, lunch with friends or refreshment for the entire family. The specialty of the restaurant is steaks and more than 10 types of burgers, including a vegetarian position. The meat dishes are made of prime Black Angus beef. The menu includes soups, hot meat and poultry dishes, hot dogs, salads and desserts, all-day breakfast, and a kid's menu. The dishes can be served to go. Rancho Grill & Bar is open 24/7.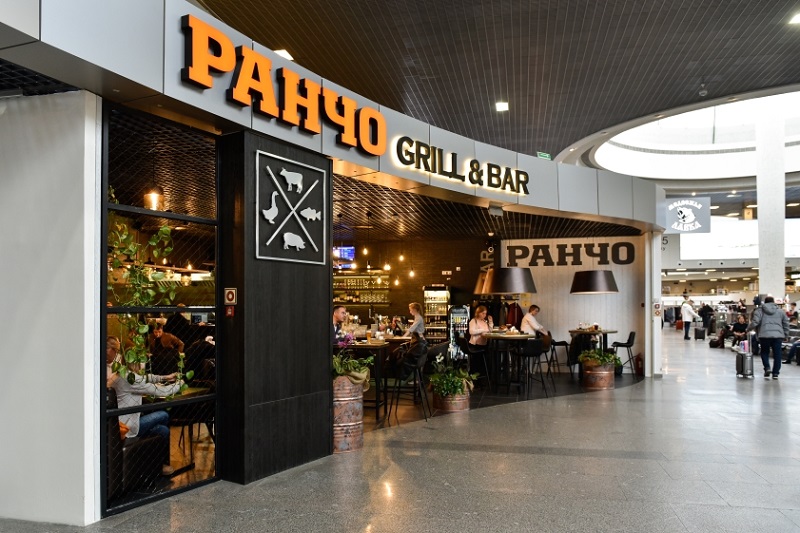 Rancho Grill&Bar serves the dishes to go
John Douglas aviation wear and accessories pop-up store opened in the domestic departures hall. The shop offers leather flight jackets, aviation-themed T-shirts, caps and hats, scarves, ties, belts, wallets, purses, and souvenirs, as well as airplane models. The store is located by the gate D21 next to the sculpture of Peter I and is open 24/7.
John Douglas has leather flight jackets, T-shirts and souvenirs
In April 2019, a global Hard Rock Café brand store is scheduled to open in the domestic area.
The retail and F&B facilities of Pulkovo Airport include more than 50 stores and 20 restaurants, including fast service points, cafes of Russian, American, Italian, Japanese, Irish cuisine, coffee shops, and snack bars. A complete list of facilities, their location and opening hours are available on the airport's website in the "Dining & Shopping" section.