Pulkovo Airport and Qatar Airways celebrate one year of Doha — St. Petersburg service
21 December 2018
Pulkovo Airport and Qatar Airways are celebrating one year of direct scheduled service from Doha to St. Petersburg. Since the launch of flights on December 19, 2017, the carrier has transported over 65,000 passengers between the two cities.
Evgeniy Ilyin, Chief Commercial Officer of Pulkovo International Airport operator Northern Capital Gateway LLC, noted:
"A year ago Pulkovo Airport welcomed one of the world's leading airlines Qatar Airways among its clients. From day one of service, the carrier launched daily flights from Doha demonstrating strong commitment to St. Petersburg market. The capital of Qatar is a strategic route for Pulkovo Airport. We are delighted to see the airline meet St. Petersburg passenger demand for worldwide travel and connect business and leisure passengers from around the globe to Russia's Northern capital via the carrier's hub in Doha."
Qatar Airway's Acting Senior Manager Eastern Europe, Mr. Ferit Aksun, said:
"This first anniversary of the opening of the St. Petersburg route celebrates a successful relationship that has received warm support and patronage from Russian business and leisure travelers as well as manufacturers and merchants for who we carry ever-increasing cargo tonnage into and out of this historic gateway. It has been our pleasure to serve them and we look forward to doing so into a long and prosperous future."
The route network of Qatar Airways includes more than 160 destinations worldwide. With just one connection in Doha, travelers can reach the most popular as well as most remote points in South East Asia; Africa; Australia and Oceania; North and South America.
The daily flights from St. Petersburg to Doha are operated on Airbus A320 aircraft, which features 12 flatbed seats in Business Class and 120 seats in Economy Class. Qatar Airways' in-flight entertainment system Oryx One offers passengers up to 4,000 entertainment options from the latest blockbuster movies, TV box sets, music, games and much more.
The award-winning airline has received a number of accolades this year, including 'World's Best Business Class' by the 2018 World Airline Awards, managed by international air transport rating organization Skytrax. It was also named 'Best Business Class Seat', 'Best Airline in the Middle East', and 'World's Best First Class Airline Lounge'.
The national carrier of the State of Qatar, Qatar Airways, is one of the fastest-growing airlines operating one of the youngest fleets in the world. Now in its 21st year of operations, Qatar Airways has a modern fleet of more than 200 aircraft serving flights across six continents.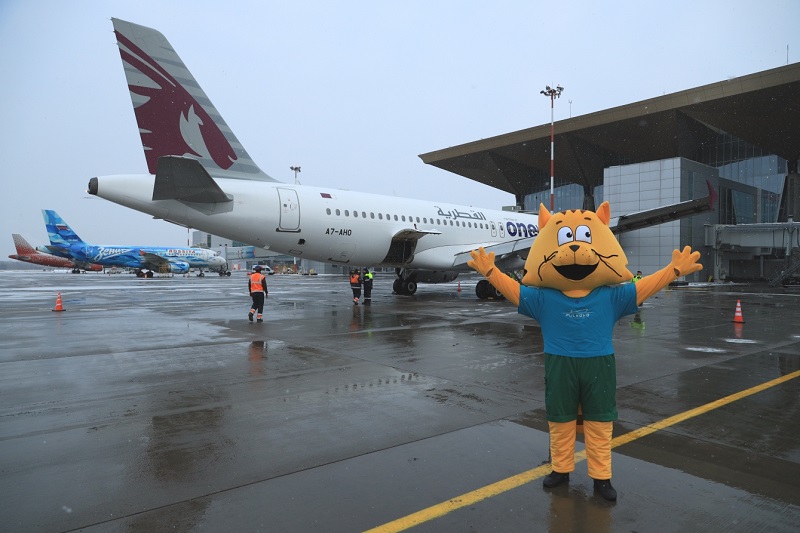 Pulkovo St. Petersburg Airport is the fourth airport in Russia in terms of passenger traffic. For the 11 months of 2018, St. Petersburg airport served 16.8 million passengers, which is 12% more than in the same period of 2017. The route network of Pulkovo Airport features about 160 domestic and international destinations.
The Northern Capital Gateway International Consortium has been the main operator of Pulkovo International Airport since 2010. The company manages the airport under a public-private partnership agreement with the city of St. Petersburg, and implements the airport reconstruction and development project.